Returns
RETURNS
---

Q: What is your return policy?
A: At CGID, we want you to be delighted every time you shop with us. Occasionally though, we know you may want to return item for some reasons that it's not suitable for you well, or you are not satisfied with quality, or just you don't like it and so on.
But please note that you must return each item in the same condition in which you received it. This means that new items must be returned new, unused and complete. Used items must not have any additional signs of use or damage. And you also need to pay shipping fee, if there is no clear defects in material and workmanship.
If there is any certified quality problem, you don't need to return the item. Please contact us and provide the pictures of defective item, then we will provide you a new replacement, a full refund or other effective solutions.
Please refer to below form before you return the item.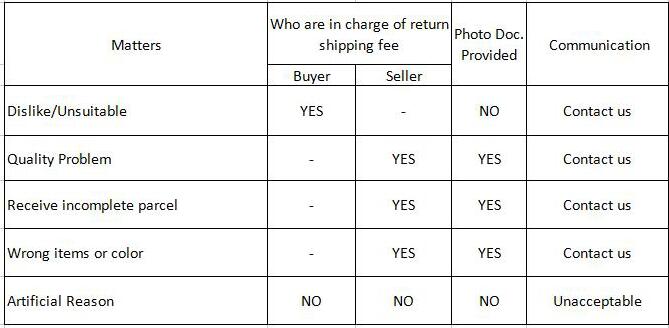 Q: I want to return my glasses, what should I do?
A: We suggest our customers email us(service@cgid.vip) or just message us from our web first, then our service team will handle your case. We normally suggest that we can send you an replacement product for free or get you fully refunded.

If you are not satisfied with our customer service and insist to return the product,
The detailed return proceduces as below:
1. Obtain an Authorized Return Address or a Refund by contacting our Customer Service at service@cgid.vip, inboxmail or whatsapp
2. Prepare package and send it back to us (for replacement, you don't need to return glasses).
3. Provide our Customer Service with the Delivery Confirmation Number
4. Once we receive the return item, we will make a refund for you within 24 hours.
Q: Do I need to pay for the shipping cost if I want to return my order?
A: Sadly yes... If you changed your mind and do not want the item anymore, we suggest you package your item in its original condition and send it back to us. We do not cover any shipping cost under this circumstance. Once we received your package, we will process your refund and you will get your money back ASAP.